Monday 10/06/2013
News is offline today, will be back as soon as we are up and running.....stay tuned for the latesst post on the right pedal and shoe!
__________________________________________________________________________
Tuesday 04/06/2013
Tuesday is upon us, let's see what we have!
Races Closing this week:
Western Cape
FOX debuts New TALAS Fork and Float X for long-travel trail bikes
Only after one year, FOX has redesigned and gone back tot he drawing board to bring out their new TALAS and Float X suspension systems, whihc are aimed at long-travel trail bikes and has put the focus on this area for these bikes.
Till hump day, stay dirty!
__________________________________________________________________________
Monday 03/06/2013
Its the month of June, so lets get into winter...
Trek lets the new Fuel hit the dirt
Trek Fuel EX 9.8 29er
Trek has recently launched the Fuel EX 9.8 29er and Bike Radar was able to take it out on the dirt and have spin on it...check out the full bike review here
Check out the teaser for the UCI Downhill Season to come 2013
Stay Dirty folks!
__________________________________________________________________________
Monday 27/05/2013
Lets take away the Monday blues with some biking news.
Giro 2013: Cavendish takes the stage but Nibali takes it overall
Gian Mattia D'Alberto/AP Photo)
Stage 21 saw Mark Cavendish take the win on the final day of 2013 and his 5th stage win. The win allowed him to secure his red jersey quite easily. While this was ll happening, Nibali finished in the bunch nice and safely to take the overall win and crown him champion of Giro 2013. For full race report check out Bike Radar.
Conquering the monster by Uys and Coetzer.
On Saturday, Buffelspoort saw an infestation of about 1500 riders who all rocked up to take on the Magalies Monster. The defending champion, Henry Uys (team bryton/USN) was nervous as the report goes and according to him it was not an easy race at all, however despite being nervous, riding with 1500 riders and defending his title he was able to do it again in a time of 3:35:23 who was followed by Nico Sterk and Andrew Grobler in 2nd and 3rd respectively.
The women's race saw Coetzer take the title. As she put it "the distance, the scenery and the downhill is what makes this race awesome..." she goes on to say it was tough but loved every minute of it. She claimed the top mark with a time of 4:34:56. Laura Herd and Natalie Robbs took 2nd and 3rd respectively. Congratulations to all the riders!
Pretty simple news but always nice to see results on a Monday. Stay Drity!
__________________________________________________________________________
Friday 24/05/2013
It's Friday bikers and that means weekend News!
Magura jumps on the Electric fork train!
Magura eELECT technology
Following both Fox and RockShox, Magura has lauched thier version of the electric fork - the Magura eElECT. It is the new suspension electronic technology which autolocks your fork...electronically. The systems is said to be very light, easy to use and best of all, it apparently works. For more info check out Bike Radar
SRAM upgrades shifters for X7 and X9
SRAM has announced that they are upgrading their shifters for X0, X9 and X7. These will be key upgrades. The upgrades includes bringing in the exsiting technology from XX and XX1 to the X7, X9 and X0 range. SRAM has also incuded in the announcement a budget version of the X7 type 2 rear derailleur, which has the clutched-pulley cage. Check out SRAM for more information.
Fitness Friday -
Check out the latest post by CL from FitnessLab for Fitness Friday - Core of the Matter Part 2!
Essentials to pack for the long ride
Another weekend edition post is the follow up news story of what one can pack for the long rides ahead.
Enjoy the Weekend, happy trails and Stay Dirty!
__________________________________________________________________________
Thursday 23/05/2013
Thirsty Thursday News is here!
E.I on bikes? - Lapierre Zesty 514 E.I
Lapierre has made a few new adjustments to their Zesty frame, but there is another feature to this bike that might blow you away E.I - Electronic Intelligence That's right folks your bike now comes with its own brain...well to a point. E.I was developed by Lapierre and RockShox together and the crunch of it is, it's an electronic system used to manage the compression and lockout settings of the rear shock automatically on the fly.
This tech was featured last year already but here is a recap of what you can expect from the system!
Essentially what this means is that there are stem-mounted accelerometers at the top and bottom of the fork, cadence sensors in the bottom brackets and small electronic motor that makes the adjustments of the shock based on the systems feedback.
For the last 5 years the system has been in development in partnership with RockShox and Trelock. Besides Lapierre putting the system on their bikes, Ghost as well as Haibike will also have it fitted. Basically there are four settings which the systems responds to:
Pedaling with no impact - locket out

Pedaling with small - middle compression setting

Pedaling with bigger hits - fully open

Pedaling - fully open
So for now unfortunately you want be seeing it on any other bikes than three previously mentioned, but that is sure to change. It can be completely submerged in water and has about a 25 hours usage, and takes about 3 hours to be fully charges again. The system does power down when not being used.
Something for the future...I think so!
Specialized puts the wind into their hair!
The California based company has built their own wind tunnel. The company is so focused on improving the aerodynamics of all their equipment, that they have now made their very own wind tunnel which will be the focus of all things aerodynamically tested. With the installation and creation of the tunnel, this now makes Specialised the only bike brand to have total control on their aero testing. For more information check out
bicycling.co.za
Sani2C fun bridge
The sani2C has come and gone, but it's always fun to see the water bridge which makes every rider a little nervous at one point or another. Check the video out below - NB. watch out for the language!
Till the weekend edition tomorrow - which includes the marathon ride essential back pack list and Part 2 of The Core of the Matter from FitnessLab....Stay Dirty!
__________________________________________________________________________
Wednesday 22/05/2013
It's Hump Day and not for some news to make the week go quicker!
Magura comes to the party with 150mm travel 29er fork
Magura TS8
Its taken a while but Magura has come to the party with a very interesting and awesome looking fork - Their new TS8 29er fork for 2014. The main reason for bringing this to the rider is the growing interest and need for long travel. Having a weight of just 1.6kg will be fighting and one could say winning on the weight class division. To read the full report and break down of the fork check out Bike Radar
u23's doing it for SA at UCI XCO World Cup
Mariska Strausse and Rourke Croeser are representing SA to the max. The two are achieving fantastic results for the u23 category. With a total of 12 riders representing SA in Germany this year for 2013 UCI World Cup XCO, the u23 category riders are doing great things. Strauss finished her race 8th with only 4 minutes and 14 seconds off the pace while Croeser finished in 12th place, 2 minutes and 8 seconds behind the leader. Overall the South African riders are spread out amoung the field and it certainly looks like its going to be a great season. Good luck to all the SA riders! For more of a race report check out
Bicycling.co.za
Wednesday is Gear Day!
Garmin Edge 800 Performance Bundle
This little bundle normally retails for R5499.00 but CWC is having a clearance sale at R4999.00 Check it out now!
Mens and Womans Firast Ascent shirts for those cold winter days!
First Ascent Mens Neutron L/S Shirt
First Ascent Womans Neutron L/S Shirt
First Ascent Neutron L/S
Some Hump day Video fun!
Thursday tomorrow and a double dose of posts coming!
Stay Dirty everyone
__________________________________________________________________________
Tuesday 21/05/2013
It's Tuesday news time again, here is everything that happened over the weekend:
New Garmin mounts for your bike
.
At the Tour de California, -edge revealed some new mounts for your Garmin GPS computer. The following was revealed and reviewed by our friends over at
bike radar
. Included in the new range are the: Standard Garmin Edge mount, a new TT-specific Garmin Edge mount, and 2 TT-specific mounts for SRM's PowerControl heads - all of which will be available mid-july
The past weekend saw the end of the beautiful race the Sani2C. One of the hardest races to get an entry to, why, because everyone who has done it will do it again and again and again. Said to be one of the beauties of the races during the calender year, it takes place in Kwa-Zulu Natal and each day features something different, but everyday is a better than the one before. This year saw Max Knox and Nico Bell take the title with a total time of 9:44:50. Runners up Stewart and McDonald finished with a time of 9:46:19 and team Contego-Giant's Louis-Bresler Knipe and Gert Heyns to third with a time of 9:49:02.
In the womans race, Bigen team Ischen Stopforth and Robyn de Groot took first place with a time of 11:32:52. Williamson and Du Toit took second with a time of 11:54:16 and third place was taken by Stewart and Moore with a time of 12:51:48.
Well done to all riders who finished! For a a full race report check out
Bicycling.co.za
That's it for today, stayed tuned for this weeks main post on what to prepare when doing a long marathon ride and what to take!
Till Tuesday's news, Stay Dirty!
__________________________________________________________________________
Tuesday 14/05/2013
Tuesday's news is brought to you by....
The essential list for long riding - What you need!
These days there are so many things to remember when you go riding that we all pack different essential items, well items that each of us think is important, but there are a few that all cyclists have in common. Here is a list of what you should keep on you!
Spare tubes

Patch Kits

Tire pump

Multi-tool

Tire Levers

Shock-pump

Chain Lube

Lip Balm

Sunscreen

Phone

Packable rain jacket

First Aid Kit

Derailleur hanger

extra links of chain with a master link

chainring bolt

Extra cleat with bolts and back plate

zip ties

spare spoke with nipple

Money

small but bright head light
There will be a full post on the right stuff for the long ride coming soon, so keep your eyes open for that one!
Ride of the Week - Giant Anthem X ADV 29 1
The Giant Anthem X ADV 29 1 is the ride of the week by Bicycling Magazine. It has a high price tag but with what this weapon is kitted out with, I think it is fair to say that it's work it. Check out rider review and bike speak over at www.bicycling.co.za or www.giant-bicycles.com
It's hump day tomorrow and along with that comes the middle of the week and maybe some nice accessories for you!
__________________________________________________________________________
Monday 13/05/2013
It may be Monday, but here is some news to cheer you up.
In a minor accident and bike is smashed? What to do?
Road safety is becoming more and more a priority for us cyclists. If you are in a major accident, getting the injured to safety is always the main priority, but what happens if its a bumper bash. Here are few things to remember.
1. Get clear of the crash site.
This sounds obvious, but many don't move or just stand in the road because of panic stations
setting in. Get clear and collected before moving on.
2. Ask for details.
Just as in a car accident, get all the details you can from the driver. registration number, name,
telephone etc. The incident should be treated the same.
3. Gather Supporting Evidence
Get all the evidence you can. Use your phone to take photos or get footage. Speak to witnesses
and other cyclists if you were riding together. All this is important for your claims later
4. Go for a checkup
Even though this was a small bump and a few cuts and bruises. People often forget to go for a
checkup..DO IT. Doesn't matter how small it is, this is a priority.
5. Speak to Insurers first.
Before speaking to third parties etc. Speak to your insurance first. Ask them what you they need
for the claim and follow their instructions
Remember safety always first. 1.5m away from cars, watch the roads and always be safe.
Giro 2013 - Winner Stage 9
Maxim Belkov (Team Katusha) took the 9th stage of Giro 2013. It was an extremely close stage between Sansepolcro and Florence. Maxim went on to win the stage beating Carlos Betancur (Team Ag2r) by 44 seconds. For the full race report head on over to Bikeradar
Get you entries in - Races Closing this week
Don't leave it till the last minute, here are the races that are closing this week.
18 May 2013

8:00am

Gauteng

Distances: 13km, 19.5km, 26km, 39km
18 May 2013

8:30am

Western Cape

Distances: 5km. 12km, 35km
19th May 2013

08:00am

North-West Province

Distances: 10km, 25km, 50km
19th May 2013

8:00am

Kwa-Zulu Natal

Distances: 10km, 18km, 40km
19th May 2013

8:00am

Gauteng

Distances: 12km, 35km, 70km
19th May 2013

8:00am

Limpopo

Distances: 20km, 45km
19th May 2013

8:30am

Gauteng

Distances: 10km, 35km, 70km
Hope some of these make you look forward to the weekend! Monday is almost done, so keep calm and Stay Dirty!
__________________________________________________________________________
Friday 10/05/2013
It's Friday...time to kick the tyres and light the trails!
Fitness Friday is Back!
Fitness Friday is back for another installment on how to keep that core strong and maintained. Check it out in the latest post by FitnessLab and stay strong.
Thanks again to CL for his monthly input. Be sure to follow FitnessLab on twitter @Fitnesslab and on facebook. To find out more information on training and just being in good shape contact
New is short and sweet today, going to be a good riding weekend!
Stay Dirty!
__________________________________________________________________________
Thursday 09/05/2013
Thirsty Thursday is here, lets drink up some news!
Giro 2013 Stage 5: Degenkolb win despite crash affected stage
John Degenkolb winner of Stage 5 at Giro 2013
John Degenkolb from team Argos-Shimano, took stage 5 of Giro 2013 despite the stage being affected by quite a big crash. Angel Vicioso (Katusha) and Paul Martins (Team Blanco) finishing second and third respectively. Luca Paolini avoided the big crash which left him still in the overall lead after the stage.
For the full race report go to Cyclingnews.com
Thule's 594XT Sidearm
Thule 594XT Sidearm
Thule has is featuring their new 594XT Sidearm carrier. So whats different to this one than the other carriers by the leader in its field. Well the 594XT Sidearm provides maximum frame protection as it only make contact with the wheel. The Securehook system by Thule holds the bike in place by grabbing the front wheel and not touching the frame at all. There is a ratcheting strap which secures the back wheel. The 594XT Sidearm fits most bikes from 20" - 29" and up to a 2.6" wide tyres. It will fit most factory mounted roof racks as well as all Thule rack systems. For safety the bike is secured by the 2 One Key system by Thule (sold separately
).
For more information on this system and others visit Thule USA or thule.co.za
Video of the Day: Fox MTB presents Kirt Voreis and Tyler Mcaul testing the new FOX AM gear!
Check Kirt and Tyler testing out the new AM Fox gear and ripping up the trails in Bend Or.
Fitness Friday is back tomorrow with an exciting story on Core, and not only that it's also weekend which means it's time to hit those trails, take those photo's or videos, and most importantly to play in the mud and Stay Dirty!
__________________________________________________________________________
Wednesday 08/05/2013
Wednesday is hump day, lets get started with some news!
Wine 2 Whales gets new title sponsor and adds new event.
Wine 2 Whales have added a new event to their calendar this year. Besides the 2 events so far, the W2W adventure and W2W race (fully booked unfortunately), there will be the W2W ride. The 3rd event in the series will be held between 4-6 November 2013, between the the other 2 events taking place over the same period. More details are to follow on the event, but it will be approx. 70-80Km per day over 3 days. Stages 2 and 3 will be the same as that of the W2W race.
This added event also sees a new title sponsor of FNB, which shows that there is just more and more great things to come.
For more information on the Wine 2 Whales go to Wine2Whales
Winter training ideas
As fitness friday is fast approaching us this week. Here are a few ideas to keep in mind during the winter training season, and how to keep strong and fit during those rainy days.
There are a few exercises to do while at the gym. Remember even though winter is here and it's colder and getting darker earlier and earlier, one still have to do the training. When in the gym and not completely sure what to do, look at these classes/sessions which will keep all the training in check:
Running on the treadmill - not always the best because of the impact it creates on the body and especially the joints, but if you keep a good pace going it will improve your endurance and weight control

Circuit training - always a positive training session and well recommended to many who want to stay in shape, keep the fitness up as well some strength training

Pilates - simply....core training. Always an important factor for cyclists

Spinning - the best way to get time on the saddle and while doing it indoors. Sure it's not the same as being outside, but a good 2 hours on a spinning bike will make anyones legs feel a little bit of pain the next day.
For more fitness, stay tuned for Fitness Friday from CL of Fitness Lab
Giant being sued over patent issues
Giant has a lawsuit filed against them by Dave Weagle, developer of the DW-Link on the Iron horse Sunday frame and looks very similar to the Maestro suspension system on the Giants. This of course is no secrete as Dave had extensive negotiation with Giant about potential licencing of his product and going as far as entering a Joint Development Agreement to create a new version of the Maestro system. But something has changed and Dave Weagle now is filing for a lawsuit against Giant Taiwan and main umbrella Giant USA on terms of patent infringement as well as breaking the JDA terms. For the full story head over to Vital MTB
Some nice winter products to keep you fit and warm
As winter is here to stay for a while, why not look at some nice gear and accessories. Staying with the indoor training idea, if you don't have time to get to the gym or just prefer to do some indoor training here are a few indoor trainers to look at:
Tacx T2500 Booster Trainer -
Tacx T2200 Trainer Flow 2012
TACX T2200 Trainer Flow 2012
Tacx T1980 Bushido Ergo Trainer
Check out all the indoor products at CWC cycles as well as more products on special. Don't forget to check out the winter gear as well.
Tomorrow is Thirsty Thursday, so till then Stay Dirty!
__________________________________________________________________________
Tuesday 07/05/2013
Tuesday's news proudly brought to you by "the week is getting shorter!"
UCI Masters MTB Champs to be held in PMB
For the first time ever, Master will get their chance of taking the UCI Master MTB Champs in Pietermaritzberg. This opportunity allows the masters a once-in-lifetime chance to take the rainbow colours here at home in SA. The event will be held a week before the elite competition and will allow riders from all around the world to compete for top honors in their respective age category. The event takes place at Cascades MTB Park in PMB between 21-25 August 2013. For more infomration head over to

Crank

or

MTB World Champs
Momsen's racing machine - Inspired by the mountain.
There are racing bikes and then there are RACING bikes, according to Momsen, their latest bike, the VIPA, but no means is brand new, unveiled at the 2013 Cape Argus Expo. The VIPA is a something of a new form of racing bikes to come, and Momsen feel they are leading the way. Momsen, a local manufacture from SA is definitely making ground, making ground very fast. Becoming one of the most sort after brands, their models are growing and becoming more and more popular all the time, and the VIPA is no exception. The VIPA sports a low travel full suspension combination, the idea from Patrick Morewood, was to design a bike which allowed the rider to have as much power per pedal stroke as possible, but still providing a full suspension feel. i.e. maximise power without losing energy on the suspension side of things.
The VIPA is designed to have either 80mm or 100mm forks, complete carbon construction, low leverage design ratio, internal cabeling and SRAM fitted. It is aimed at marathon, multi-stage or XC riders wanting a low suspension racing machine.
This year's Cape Epic saw Nico Pfitzenmaier claim the Telkom Business Masters' category on this machine and by no means did it disappoint. For more spec information and a complete write up about the launch and Nico check out Momsen Bikes
Giro 2013 - Stage 3
Luca Paolini took the 3rd stage at Giro 2013. The italian rider took the honors alone with Cadel Evans (BMC) and Ryder Hesjedal (Garmin-Sharp) took 2nd and 3rd respectively. Bradley Wiggins (Team Sky) finished in the same front group and finished 8th overall for the stage. Check out the full race report at Bikeradar
It's almost hump day, stay strong and stay Dirty!
__________________________________________________________________________
Monday 06/05/2013
I know we are a week late on the news, but due to some technical problems, we had to be down. None the less, we are back, so change those Monday blues to some MTB News!
Joberg2C - A sure Victory for Stewart and MacDonald
Neil MacDonald and Brandon Stewart, saw their tough cycling efforts pay off as they rode into 1st place and to take the title for Joburg2C on the weekend.This is the second win of the Joburg2C for MacDonald with his new team mate, Brandon Stewart. Coming in second, 11-minutes behind MacDonald and Stewart, was RE:CM Waylon Woolcock and Lourens Luus. Woolcock was MacDonald's former team mate whom he won the 2011 Joberg2C with.
Erik Kleinhans and wife Ariane of RE:CM took the mixed couple victory with a total time of 36:38:55 and for a 3rd year in a row; while British rider Catherine Williamson and partner Jarryd Haley of Biz-hub Rocky Mountain finished second in total time 37:08:54.
Two-times woman champion, Ischen Stopforth, riding with Yolande de Villiers (previous mixed champion) took home the womans trophy with a total time of 39:12:56. They were followed by the Burry Stander Foundation Cherise Stander and Lise Olivier in a total time of 40:04:46
Congratualtions to all riders of this years Joberg2C
fore more information check our Bicycling magazine
pOcpac Home and Dry - keeping your phone and items dry since....Now!
We all have had that worry or predicament. What to do with our phones and personal items on those rides when its raining. Most of us ride with our phones, we use them either to track or monitor our ride, play music in the background, or simply use it and have for a safety concern; either way cyclists are riding with their smart phones all the time. pOcpac Home and Dry has seen this and realised that cyclists needed something to keep their phones and personal belonging safe and dry from those wet rides, sandy terrain or what ever else might come from mother nature.
A pOcpac is a small water resistant bag made from a durable but strong recyclable materials. It is the ideal pouch which fits most cycling jerseys' pockets and has a unique Round-Edge Seal system to make sure everything in the pOcpac is secured and sealed. It is a local product designed and developed by two engineers who witness a down pour and realised everything was soaking wet including our little friend the smart phone. The one whihc stands out the most is the Mobi pOcpac as it allows you to work your phone completely while still sealed. Another major quality is the custom branding which can be done on all of the different models. There are 4 models currently - The Mobi Pac, The PRO Pac, The MTB Pac and The Citi Bin (used for protecting our streets from litter and other rubbish while riding)
They can be found at most cycling shops or contact pOcpac for more information
Another awesome SA Product!
Races Closing this week:
As with every week we look at what races are closing, check below and if you have not signed up, you better get to it!
Date: 10 May 2013 - 11 May 2013
Time: 18h30
Location: Buffelskloof, Kruisrivier, Calitzdorp
Date: 11 May 2013
Location: Komati Gorge Lodge
Date: 11 May 2013
Time: 08h30
Location: Willow Creek Estate, Nuy Valley, Worcester
Date: 11 May 2013 - 12 May 2013
Location: Diemersfontein wine & country estate, Wellington
Date: 11 May 2013 - 12 May 2013
Time: 13h00
Location: Bee Hive, Greytown
Date: 11 May 2013
Time: 07h15
Location: Dinokeng Nature Reserve @ Nokeng Eco Lodge
Date: 11 May 2013
Location: Moreleta Track
Date: 12 May 2013
Location: Ongegund Lodge,Somerset West
Area: Western Cape
For more information check out the race calender on www.bicycling.co.za
Till Thirsty Tuesday, Stay Dirty!
__________________________________________________________________________
Friday 26/04/2013
Hey Hey it's Friday!
Some products to get us started -
Sigma releases ROX 10.0 GPS cycling computer
Sigma Rox 10.0
Sigma has always been well known for their biking products and their biking computers are some of the best around, now they have even stepped up a notch to give you, the biker, the complete riding tool. The ROX 10.0 GPS cycling computer is a first in the sense it has GPS, ANT+ and Power at an affordable price too. The ROX 10.0 is equipped with the latest tech so you don't get lost. It shows route profile, elevation, keeps a log and more. Has a 1.7" screen with bold font so easy to see and is very easy to use. For more information and pricing check out Sigma Rox
How-To Install Stan's No Tubes Tubeless Conversion Kit - Feature
Stan's No Tubes Tubeless Conversion Kit
Every now and then it's always good to have a How-To guide when comes to certain things on your bike, and over here at Dirt Worx MTB, we are no different. Today's How-To is all about converting those tube tyres to tubeless. There might be controversy about this but it still seems a lot of riders are going this way. Follow MTB Action, there is a great write up on the How-To convert your tube tires to tubeless and Installing a Stan's No Tubes Tubeless conversion kit.
Go to Mountain Bike Action for the full write up
Giant pull out another top bike for 2013 - Trail bike of the year finalist
Giant Anthem X 29er 1
There is no doubt in anyone's mind that Giant has some of the best bikes in the world, and is one of the most popular bikes in the world too, and 2013 for Giant has been no exception. Never mind about the new prototypes that have been floating around, Giant's Anthem X 29er 1 2013, came second in the finals for the best trail bike of the year. There were many reasons why it is one of the best bikes, and was marginally beaten by
Whyte T129S. The highlight features is the perfectly balance handling of the bike, as well as the frame and equipment is top notch, light yet tough components. The price is also what makes this bike a winner. Check out the full review over at Bikeradar.
The feature post this weekend will be what saddle to chose and why, so stay tuned for that one!!
Have an awesome weekend, play in the mud, have fun on the trails and most of all Stay Dirty!
__________________________________________________________________________
Thursday 25/04/2013
Another thirsty Thursday, here's some news quench it!
For all you ladies - Specialized Announces Woman's FS 29er!
Rumor Comp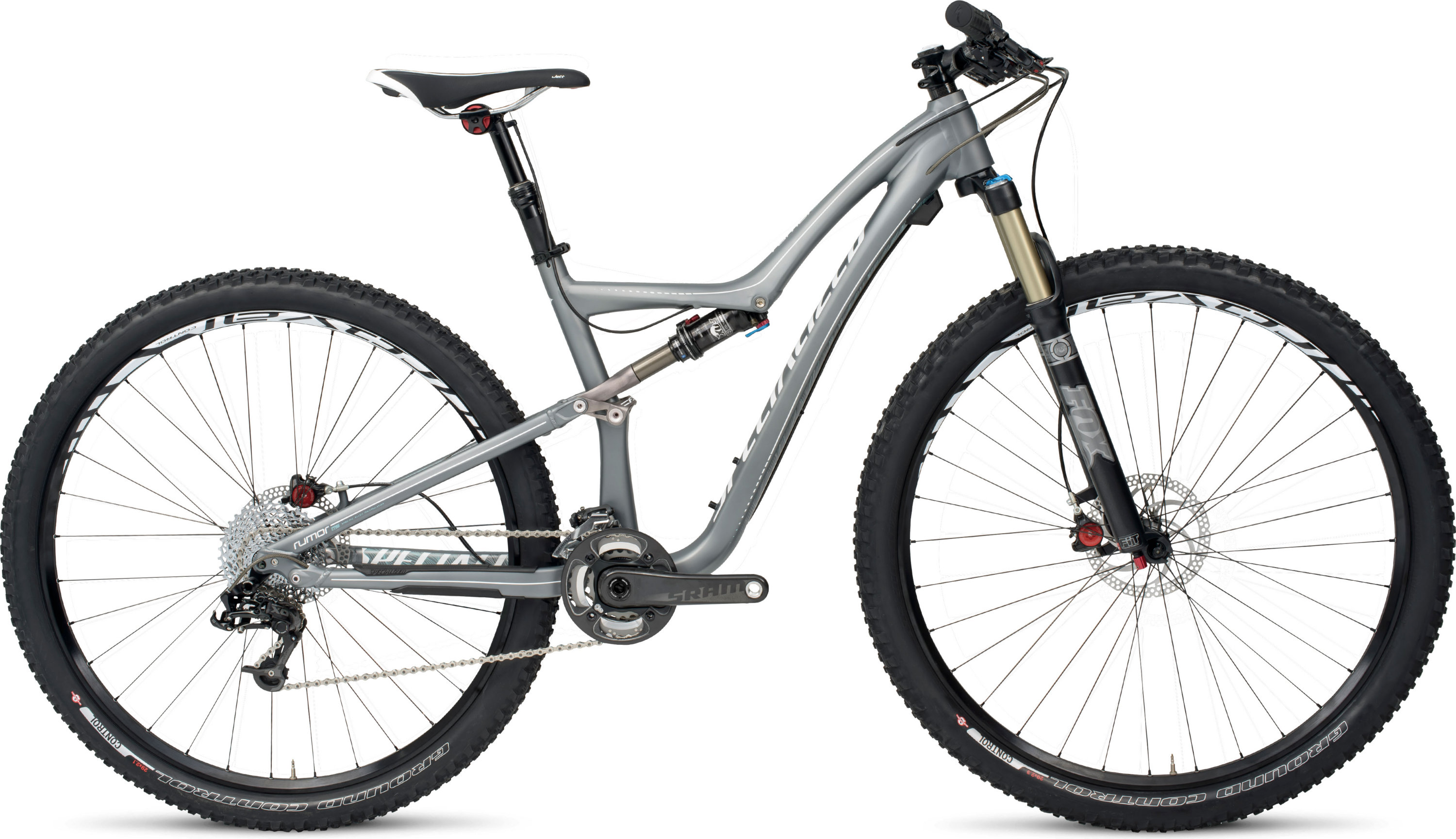 Rumor Expert
The Rumor is....No The Rumor is the new bike by Specialized. It is a full suspension 29er aimed only at woman. Specialized designed the Rumor based on female geometry. Specialized believes woman's mountain biking is the next big thing, and I think they are a 100% correct. With this new bike from Specialized, it will not only give the rider the edge she needs, but also will make the competition stand up and pay attention.
The Rumor comes in 2 different models, with 110mm front and rear travel, a tapered head tube, internal cable routing and ultra-low stand over height. For more information visit Specialized
Joberg2C - MacDonald ready to take it again!
Neil MacDonald and team mate Brandon Stewart will be the center of attention as the two are out for blood and the victory for the Joberg2C. Previous winner and runner up last year, MacDonald has been in good form following a successful CApe Epi as well as the latest Mzansie tour which was a great success. Team FedGroup-Itec will definitely be a team to watch this year. For a more in-depth interview and look at how the race might stack up, head over to
www.crank.co.za
Need something to light your way?
With winter approaching, it means that those early rides or post-work rides are going to be done in the dark, which means it's time to get out those lights. Ride magazine has recently highlighted the Light & Motion Seca 1700 Race. The unit has been refined and designed to be versatile and with the new bike mount, it makes it more secure to the bike as well as having reflectors around the 3-LED lights, which provides better and further light coverage. There is an easy button to switch between modes. Along with it is a helmet mount, an extension cable and versatilty clip. It is also completely waterproof as you would expect. There is a price however, a big price of around R6000. Of course this can be seen as very high, so why not check out some others which might be more in your price range. Some to look out for are Cateye EL-135/LD-150 set; The Lezyne Mini Drive XL Front Light - 200 Lumens or the Hope Vision 1 LED Front Light 2013.
Check out more products at Chain Reaction Cycles
One more day till the weekend peeps, play in the mud and Stay Dirty!
__________________________________________________________________________
Wednesday 24/04/2013
Hump day Wednesday!
It's hump day, let the downhill begin!
Biologic introduces Bluetooth heart rate strap
Biologic joins the likes of Polar and Wahoo, who already have similar tech out. The bluetooth strap was introduced by Biologic for the main reason that riders are and athletes in general are using their smart phones more and more for exercise. It will work with most apps that are available on the iTunes or Google Play. The strap is compatiable iwth iPhone 4, 4S, 5 as well as Galaxy SIII and up. To find out more and pricing go to Biologic
Suntour reveals 2 new forks at Sea Otter Classic
As with a lot of companies showing off new stuff at the Sea Otter Classic, Suntour was no different. Revealing over the weekend their 2 new forks - the Auron with a 160-mm travel designed for Enduro and the new Epicon trail fork variant for use with 27.5 wheels.
For more information on the forks check out our friends at Bikeradar
Some new gear to look at!
Chris Willemse Cycles, SA's largest Online store has some great new gear and accessories. Some winter gear with the Crank-It Cycle sport long sleeve jersey. Lighting the way with Bicycle Light 1000 Lums-SG-B1000.
For more specials check out CWCycles.co.za
Not sure where to ride this weekend?
Jonkershoek
Every week we all look forward to riding on the weekend, but some of us getting a little bored on where our home trails, so where are some different ones to check out? Here are a few that I think are really good, fun and give the legs a burn which they deserve on the weekend. As always comment on others if you know of more.
There are of course plenty more so check out Pedal Power for a good list on others.
Have an awesome hump day, and Stay Dirty!
__________________________________________________________________________
Tuesday 23/04/2013
Tuesday has got some good news to talk about!
Interview with local boy Greg Minnaar
Check out an awesome interview with Greg Minnaar from SA and what he plans on doing this season. The interview is courtesy of Vital MTB
Rockshox debuts some new Loc-out tec at Sea Otter 2013
Yes the Sea Otter Classic has come and gone in the US, but there was a lot of new tech that was revealed and Rockshox didn't disappoint with a new loc-out system. The Full Sprint system is not new new as per say, however it uses a single remote loc-out function, which is basically with one push, it will lockout front and rear suspension. The XLoc is already used on the XX-level SID and Revelation forks and Monarch XX rear. For more info head on over to our friends at
Bikeradar
Gear Tuesdays!
Accessories
are always a part of riding, so check out these gear specials from Chris Willemse Cycles. Click on the link for much more and the best prices in SA!
As always check out Bikeradar and Vital MTB for more news happening in the world of Mountain Biking
__________________________________________________________________________
Monday 22/04/2013
Another Monday, another week ahead for some MTB News!
Sea Otter Classic
The past weekend saw the Sea Otter Classic take place. This bike festival which really caters to all biking enthusiasts saw some great riding and some even greater results, especially for Gwin, the American took home the win, Hannah and Cole take 2nd and 3rd respectively. Our local boy Greg Minnaar came in 5th, great result and we saw Andrew Neethling in the top 25 as well. Nice work guys for SA. The big news was not only the Gwin took the win, it was that he took the win on the Specialized Enduro 29er! What a 29er takes a downhill title....interesting thing to come.
Cape Epic - What happens behind the scene
Well today saw a new mark for DC himself. The first article has officially gone to print for an international Dutch magazine call

Bike Freak magazine

. The article is focused on the organisation of the Cape Epic and what goes into it. It makes for some interesting reading. Thank to Guido and Eric for making this happen, as well as The Cape Epic team for assisting on all the information, as well as VVK on the editing!
I will post the Article once it is up!
©Redbull
These races will be taking place this weekend
Follow the links for more information!
'Till Tuesday, Stay Dirty!
__________________________________________________________________________
Friday 19/04/2013
It's Friday, time chill, kick back and go for a weekend ride!
Specialized reveal all new limited edition racing frame - Enduro SX.
At the Sea Otter Classic, Specialized has just revelaed their new race Enduro SX frame. The frame is completely designed and only aimed at racing. As you know Specialized has launched their Enduro 29 bike in February, which has more suspension and is an All-Mountain/Enduro bike; while the SX has been designed for racing, plain and simple. There is no price yet ut will support the CTD FOX Float in two different lengths.
For more info head over to our friends BikeRadar
Sea Otter Classic
The Sea Otter Classic is upon us in Monterey, California. Now I know this does not sound too interesting for SA riders, but if you look closely the main event is the downhill, and when there is downhill that mean GM is in town. Greag Minnaar will be representing SA as he always does, and riding his Santa Cruz V10. After the practice sessions, it seems it's going to be a very exciting weekend, and this time not only because of the riders, but also becaue of the bikes. Every wheel size you can think of is being reperesented at the Sea Otter in all disciplines. Check out more info on the event and up to date news right here
Talking about races and events, this weekend here back hom in Cape Town, we have the following going on:
Fitness Friday!
Don't forget to check out the new addition on Fitness Friday. Today the dreaded foam roller!
Have and awesome weekend, play in the mud and Stay Dirty!
__________________________________________________________________________
Thursday 18/04/2013
Thirsty Thursday, here's some news to quench it!
SCOTT launches new 27.5/650B hardtail to the public.
SCOTT has been working on their 27.5/650B for quite sometime. Until recently only SCOTT teams have been able to ride the hardtail version of the 27.5/650B. It is claimed to be a fantastic ride as it gives the rider the same sense has being able to go over everything and anything just like a 29er, but also has the reflexes and acceleration of a 26er. SCOTT has just revealed to hardtail models and a limited edition - Carbon fibre Scale 710, ALU Scale 740, limited edition Scale 700 RC.
For more information head over to BikeRader who have done a full review on the bikes and they seem to be very pleased!
Something very different - Redalp Launches new Enduro Bike.
As Monty Python would say "Now for something completely different". Redalp has launched a new kind of downhill bike. The Swiss bike company has given us a bike that looks odd but performs among the best. The Redalp Cascadeur FR 2013 comes in green or black, ALU or carbon, fitted with the Fox Talas RC2 180mm front fork and Fox Van RC rear shock also with 180mm travel; and is running SRAM X0 components. All in all a very nice combination of an enduro bike.
To see more info on the bike and read up more go to Redalp.com
My Watch, my direction - TomTom Launches new Sports Watch Range!
The title sounds like a bad pop song, but what it actually means is that TomTom, the Navigation company, has revealed some very interesting tech - The TomTom Runner and Multi-Sport.

These GPS watches are claimed by TomTom, to be the first ever industry one button control GPS sports watch. The Runner is designed just for running and is a little simpler in use, while the Multi-Sport one is aimed at swimmers and triathletes with a bigger screen and more options such as track laps and stroke information. It also ships with a dedicated bike mount. The watches show about a 10-hour battery life with the GPS engaged. No pricing just yet, but will be available in Summer in Europe
Hope you have a good Phuza Thursday and Stay Dirty!
__________________________________________________________________________
Wednesday 17/04/2013
It's Wednesday and that means its hump day. It's all downhill from here!
FOX Launches new 2014 Fox Float X CTD All mountain shock and 34 Talas fork
TALAS 2014 160mm CTD
First up is the 34 Talas fork. TALAS stands for Travel Adjustable Linear Air Spring. So what is different between this one and the 2013 version. With the 2014 fork, According to fox it has been redesigned with updating the dampening tunes which provides even more greater control. New and improved remote. Improved air sprung curve, low friction and crisp actuation with precise internal travel range.
Float X CTD 2014
The next one up is the Fox Float X CTD All-Mountain. It is a new piggyback shock, according to Fox for very aggressive all-mountain riding. With the 3 CTD setting, asw in the other shocks, the X CTD also provides a wide CTD compression dampening range and remote capability. It is also lighter as well as sharing same technology from the DHX coil suspension.
With only 5 months into the year, Fox is already shown us what is to come for 2014, and WOW does it look awesome!
For more information visit Fox's website
Niner Revamp their RIP 9
It comes in green too!
Niner has recently just revamped their RIP 9. The new highlights include airformed alloy full suspension; 125mm of their CVA patented suspension which effects every train ring and makes it smoother. It is compatible with 120mm-140mm forks and tuned for CVA - Rock Shox Monarch RT3 HV. The only-29er company as it has come to be known, is very happy with the new and improved RIP 9, and from over 30 reviews of the bike, the public seem to be very happy as well.
For more information on the bike and what people have to say about it, check out Niner RIP 9
Fitness Friday coming soon!
Thanks to personal trainer and Sport Scientist CL from fitnessLab. We are adding a new segment called Fitness Friday. Bi-monthly we will have info on what you can do as a rider to stay strong and fit to get over those hills or to keep that momentum going!
Check out the new Gear Specials on the Gear Tab
http://dirtworxmtb.blogspot.com/p/equipment.html
You can following CL on twitter @fitnesslab or on facebook
Stay dirty everyone!
__________________________________________________________________________
Friday 12/04/2013
Friday has finally arrived, and that means it's weekend and more importantly, some weekend riding!
Giant working on some new tech?
©Giant
Recently 4 prototype bikes were spotted by the BikeRadar crew and has sparked up some questions thoughts on what is to come from Giant.
It looks like the Anthem might be getting a make over and Giant is focusing heavily on the 650B sizing. Also there is a new cycle cross bike seen with some nice new things happening in the design and modification area. What does this mean, are we getting a new range from Giant.
To read more on the different prototypes which were spotted head over to
BikeRadar
for more info!
Have a great weekend, sorry for the short news, will be up and running next weekend full steam ahead.
Stay Dirty!
__________________________________________________________________________
Wednesday 10/04/2013
Missed yesterday with the news and the latest, but here is todays latest!
The Mast Challenge!
This Saturday will see the 2013 Mast Challenge take place. Its a balls to the walls race where riders will take on runners or vica versa, depending on what you prefer. The race takes place in Tokai forest. Don't forget if you are going to go for this one, there is a R10,000 Prize for any rider who can get to the top in 35 minutes or for the first runner.
More info a
t www.mastchallenge.co.za
Whyte T129S - Trail Bike of the Year 2013
©Picture Courtesy of BikeRadar
The Whyte T129S has been announced as the trail bike of the year. The brand being unknown here SA, leaves us wondering if it would come to our trails. Something tells me it just might.
Full a full review and video go to BikeRadar
Here are the other bikes which also made it into the top list (Come on the Morewood Sukuma - doing it for SA)
·
Specialized Camber Comp Carbon
·
Cube Stereo 160 Super HPC Race
·
Devinci Dixon Carbon RX
Till later, play in the mud and Stay Dirty!
__________________________________________________________________________
Monday 08/04/2013
As the weekend has come and gone a few things have happened over the past weekend, let's have a look at the latest highlights.
The Simonsberg Classic - Leg 1 of the Penny Pinchers MTB Series
Sunday the 7th of April saw the start of the start of the Penny Pinchers MTB Series with The Simonsberg Classic. The 45Km route is said to be arguably one of the toughest races in South Africa, and after personally completeing it, I can honestly say I do not disagree with them at all. With a total climb during the race of approx. 1800m this is definately the toughest race I have seen in a while, and the 2nd part of the race includes some of the distance that was completed on the 6th day of the Cape Epic. Check out more of the event at Simonsberg Classic along with the race results here and some nice photos to go along with it from Oak Pics - follow them on Facebook
A full write up and review of the race will be posted right here, so you can get a better idea on how it all went! The next event in the series will be The Hottentots-Holland Classic on the 12th May 2013 - See you there!
Now my iPhone can go everywhere - Tern's Biologic launches two new cases for your iPhone 5
Biologic has recently launched two different cases for your iphone 5. The Bike Mount Plus for the iPhone 5 is a hard-shelled all weather case that protects your iPhone 5 and lets you mount it to your handle bars of your bike. The special design of the soundPipe by Biologic allows the sound to carry to front of the case when the speaker phone is activated so no need to remove the phone. There is also a KickStand by biologic on the back to allow for horizontal viewing. The Hard Case is the other cover from Biologic for the iPhone 5. Made from high grade aero-space aluminum, the Hard Case will protect your iPhone 5 from almost anything and is waterproof on top of that. Unfortaunately there is not Bike Mount yet, but I am sure this will come soon.
For more information check out - Biologic for all the details on the latest tech!
Who took my bike? - Atomic 22's latest security for your bike
©Atomic 22
We all love our bikes, and we all know how stressful it is when leaving it somewhere, no matter how secure it is. Well Atomic 22 might have just removed some of that stress if not the majority of it. Atmoic 22 is a UK based company focusing on the latest technology on how to beat the bike thief before he can get the upper hand. Atomic 22's latest tech is all about making security personal with the latest patented design infiniti3D Security. In a nutshell, they provide a way for you to secure every removable part of your bike with only one key, and only YOU have that key, as this is unique and there can be only...For more information on what Atomic 22 is up to check out - Atomic 22 and for a more detailed write up, as always BikeRadar is here to help.
As always keep looking at Race Day to see what events are coming up this weekend. Stay tuned for the full write up on the Simonsberg Classic and more to come!
Stay Dirty as always!
__________________________________________________________________________
Friday 05/04/2013
It's Friday and that means it's weekend riding and of course the end of the week update on the latest news in mountain biking news!
Rock Shox and the vicious new Tech!
Rock Shox pushing hard and making their name for Trail and Enduro racing with the launch of a new range for 2014. The Pike is back and more vicious than ever. We saw it launched back in 2005 with a travel of 140mm but now coming with 160mm travel as well with a brand new sealed cartridge 'Charger" dampener it changes a few things and it comes in all three wheel sizes.
Rock Shox Rapid Recovery dampening system, found on the RC2 downhill fork, will also be present on the Pike and as well as the updated Monarch Plus rear shock.
Maxle Lite and Reverb dropper has also seen some small changes but enough to make an impact to the buyer!
For more information on how these new updates did, head over to Bike Radar for the article which puts them to the test.
For more product information check out RockSox
Talking about Enduro earlier this week and seeing it explode, the membership drive has increased so much, that organisers are overwhelmed.
Since Enduro World series was back in 2012, it has been growing and growing ever since. However when combining the factors that have been taken into account and with faith, as the organisers put it. The interest has just kept on growing and growing and membership is higher than people could every believe in such a short period of time.
For the full article on how it has grown and what the organisers have to say, head over to
Vital Mtb and check out the interview with Chris Ball, the main guy behind EWS.
Don't forget, this weekend sees the start of the Penny Pincher MTB Classic series, there is still time for late entries. If you aren't racing then keep training and as always...Stay Dirty!
__________________________________________________________________________
Thursday 04/04/2013
Best energy foods to get you through the race!
You started well, and the pace has been strong but now your energy is low....what to do? We have all experienced this one time or another, so what is the best energy foods and drinks to take before, during and post ride? Here are a few suggestions which is recommended which will definately help during those tough times.
Energy Gels -
The benefit of energy gels is that they provide you with a "super" hit of energy in a short span. The are also generally quite easy to digest and absorb. Another plus is of course they are easy to carry and take up very little room. Advantages are easy to absorb, quick and affective shot of energy. The disadvantages is that they can make you feel a bit sickly on longer rides, and as there is a large amount of flavours, choose one that is good!
Energy Chews -
Just like the energy gels, these are great for providing energy to you during a ride. What is also a great positive is that because there are many of them in a packet, you can spread them over a long ride and take them in slow. There are also many different types, but if you not sure, you can always try the good old jelly baby. A downside is that there is no real hydration to them so remember to carry on drinking.
Energy Bars -
Again another great form of energy that hits quick and furious, but there are other positives to energy bars as well, they provide good substance during long rides and so should be taken on longer rides when you want a bit more "food" in your stomach. If it is a training ride, a oats or ceral bar will be better as it will cure the hunger feeling faster. Be careful though, they can sometimes cause stomach problems and also absorption is a lot slower to the gels or chews.
Energy drinks -
There are plenty of different energy drinks on the market, these are not Red Bull or Monster, but rather known as sports drinks, and to provide a list can go on and on, plus we pretty much know the good ones. The important thing to always look for is what is in them and how they will help you. Most have electrolytes in them which is essential during long rides to keep the body from fatiguing. It is recommended to take 500ml to 750ml per hour/hour and half depending on how hard, long and hot the ride is; just remember to always keep the body hydrated as this is the biggest cause of body fatigue during a race or training. If you want, you can make your own with fruit juice for the sugar with some salt to help prevent the loss of electrolytes too quickly. A downside is that energy drinks take up space and you can only carry so much during a ride, so drink wisely and make sure to refill when possible at ALL waterpoints!
There are many energy products, shakes, carbo-loading drinks and other fantastic fuel sources on the market, just have a Google and a good list will come up. A good reference and line is the USN range for pre, during and post work out - chack them out at USN.co.za
Till next time, stay dirty!
*All images are for reference only and are not linked in any way
*information from an article from Bikeradar.com
__________________________________________________________________________
Wednesday 03/04/2013
Some cycling Apps which are a must have!
As our smart phones get more and more advanced and so does our love for the cycling, there is an ever increasing need for a really good app to combine the two. After looking around and trying some, here is a list of what is said to be must have apps for cycling. (feel free to add your own if any are left out!)
Endomondo
©Endomondo
Endomondo is an app which provides a complete overview of your training session. It comes in two versions; a Lite version (Free) and the Pro/Premium Version which is about $4. The difference? The Lite allows the user to enjoy the basic features of the app such as GPS tracking, distance travelled, calories burnt, elevation, time etc. The upgrade does give you more features such as more statistics on the ride etc. However, I must admit, I have seen the upgrade and compared to the Lite, the Lite still does an extremely good job, the only downside is the Pro version comes with a battery saver option and this is a BIG plus. This is a great App to get started with and really is useful - Also nice to hear a ladies voice telling you to push on! Visit Endomondo for more information
- Available for download for iPhone and Andriod
Bike Repair HD
©Atomic Software
Ever wondered what that part was on your bike, or how to fix that one part that is bugging you all the time? Well Bike Repair HD App might have the answer for you. Its has about 50 different areas that will help you with answers to common faults or repairs that might be needed to be done your bike. WIth over 150 high quality photos, it is definitely an App which can assist. Available on iPad and iPhone for $3.99 it is something to definitely look for. Visit
Bike Repair
for more information on their app.
- Available for download on iTunes
Bike Gear Calculator - Bike Gears
©
MatixSoft Inc.
Never quite seem to get that right gear at the right time? Bike Gear Calculator from Bike Gears allows the rider to improve their overall experience on-the spot. Let's be honest, all us riders have a better ride when you know you have chosen the right gear!
- Available for download on iTunes
BikeLogic BikeBrain - GPS and Cycle Computer
©TechSport Ltd
Another great app to try is BikeLogic BikeBrain. Yes it is another app with the usual of a GPS etc etc. but what is great about the app is a little social vibe of photo sharing. The app allows you to take screen shots of your performance as well as other photos during the ride to share to fellow riders - isn't it nice to know you not the only one suffering on the uphill!
- Available for download on

iTunes
Dirt Mountain Bike Magazine
©Pixel Mags
OK so this app doesn't really do anything as per say, but it is a fantastic mountain bike magazine app. Add it to your iBooks library and all you have to do is subscribe and off you go with the latest edition of Dirt Mountain Bike Magazine. There are of course plenty of digital magazines on the go and everyone will have their preference on which magazine they like best!
DMBX 2 FREE - Mountain Bike and BMX
©randerline GmBh
Have a little spare time? Looking to do that superman or backflip, or are you simply looking for some fun. DMBX 2 FREE is a great little game that is just plain good old fun. It allows you to either play downhill or BMX. Once decided on your preferred style, go hit the trails or the parks and fave some fun. And best of all the App is free!
Runtastic mountainbike
©runtastic
This is another great app to record all your riding that you do on the day. Very similar to Endomondo, the app provides you with everything you need to know about your ride from altitude, distance to calories burnt. Just like Endomondo, there is a light version and a Pro version ($4.99) which gives you the upgrade of offline maps as well as more extras. This really is a great app to track and record your ride -
forgot the route you did last week, not a problem check the history and off you go!
As I said in the beginning there are plenty of different apps out there to help you get the most out of your ride, the above are some that will definitely help and add a bit more of an enjoyable experience to your riding!
__________________________________________________________________________
Tuesday 02/04/2013
Getting lost? Garmin launches new models with some very nice features!
Garmin has recently launched their two new model upgrades - The New Edge 510 and Edge 810. both GPS enabled. The 810 model is said to be a slight upgrade on the already very popular 800 model, however it's the Edge 510 model which really stands out with an ever more powerful device as well as having plenty new features to enjoy!
The new Garmin Edge 510 (left) and 810 (right) GPS cyclocomputers
(*Photo Courtesy of bicycling.com magazine)
For more information check out the link which has a complete review on the two new models - Garmin unveils New Edge 510 and Edge 810.
THE CTD on your FOX - What does it actually mean and do?
Earlier this year FOX launched the CTD system for their front fork and rear shock. Even though this system is by no means new, and many have been riding with it for quite some time but it's always good to shed some new light on new tech for everyone.
CTD - translates to Climb, Trail and Descend. Generally trail will be the best and most general setting for all riders not quite sure what the terrain ahead of them if going to be like. As time goes on, one will get a better feel and also will know when the best time to change the setting will happen.
For more information, follow the link of Nick Delauder who is the Tech rep for FOX and breaks down the system perfectly - Riding your FOX CTD suspension
__________________________________________________________________________
Monday 01/04/2013
Happy Easter and April Fools to all who was fooled!
The Long weekend has ended and off to work we go, but what has happened over the Easter period?
To start off, it's not riding news but Cape Town held the 2013 Two Oceans marathon was held over the Easter weekend. Known as the worlds most beautiful marathon, was once again a fantastic and successful event this year with over 26,500 entries mixed between the half and the ultra. The winning times for the Half was around 1:03:00 for Men and 1:12:00 for woman, and for the Ultra 3:08:00 for men and for the woman 3:38:00. Congratulations to all runners and a big shout out to CL for doing a 1:43:00 his PB for the race. For more results, see the link: Two Oceans
OK onto the mountain biking news and whats dirty out there:
Some new equipment from FOX to fight the DH demons. Fox has recently launched two types of DH weapons. The new 2014 40 FLOAT RC2 features a new chassis and design as well as a FLOAT air sprung which makes the new shock a lot lighter, approx. 2Kg. What is a big change is that the lower legs, crowns and upper tubes have the same strength and durability as the previous version but it has dropped the weight a considerable amount. Besides being lighter than a coil system, the new shock offers an additional adjustable compression ratio to modify the progressiveness of the spring curve.
40 FLOAT RC2


The next addition by FOX is the 2014 DHX RC4. The DHX RC4 borrows tech from FOX's motocycle shock. Better responsiveness comes to the rider because of the dampening loading between the main and reservoir pistons which are balanced to provide a more sensitive ride and better responsiveness to changing direction while riding.
DHX RC4
__________________________________________________________________________
Wednesday 28/3/2013
Stander Family always sticks together!
As we know the Cape Epic has come and gone. It was a fantastic race with Team Burry Stander-SONGO winning the gruelling and probably the toughest marathon mountain biking event in the world. Team mates Christoph Sauser (the late Burry Stander's team mate) and Olympic champion Jaroslav Kulhavy had a great race and it was fantastic to see them take home the title. However, and not taking anything away from any finisher of this great race, it can be said that the Stander family who rode in memory of Burry Stander were seen as true hero's and people that we can all inspire towards.
Photo by Karin Schermbrucker/Cape Epic/SPORTZPICS
To get the complete story and follow more got to the following link (thank you to Bicycling magazine for putting together a fantastic article)
__________________________________________________________________________
Tuesday 27/3/2013
A new age is upon us, and it's called Enduro!
It seems to be all the buzz at the moment, the new discipline, or lets say revamped discipline called Enduro. So what is it? Well after doing a little research, I came across an article from

Chop MTB

(Awesome site BTW) and did a little digging of my own. Enduro it seems is a mixture of downhill, traill riding, some uphill riding and just good old fun. The way the format works is that you get timed on all down hill sections of the course and when it come to the uphills, these are untimed, however if you take your time, you will get disqualified as you wont be making the downhills in the recommended time. So that's Enduro in a nut shell.
Now who is it for? Anyone. Who wants to do it? The guy or girl who wants to stay away from Downhill and does not feel like becoming superman fit for cross country. It seems that this could be the perfect discipline for people who are ready to have a lot of fun on downhills, single track and don't mind the odd uphill here and there. The guys from

Chop MTB, recommend a full face helmut for Rock descents, but a good trail helmet will do fine, and then the essentials are your gloves, knee pads and eye protection is essential, and a hydration pack works great!
The type of bike? Interesting one, the boys from

Chop MTB

are saying trail Full Suspension or All-Mountain Trail bikes are best suited. Not saying you can't use the normal XC or hard-tail, but you probably will have to work harder because of the terrain, but then again the heavier all-mountain bikes will be tough on the uphills. Travel is recommended at 140mm to 170mm, and a wider bar, shorter stem will definitely help with the handling.
So where is it all happening? Currently happening in EU and America at the moment, but don't be suprised if this event comes to our Sunny South African shores as there are enough tracks to bring this discpline to fruitation here - Jonkerhoek anyone?
Check out more infomration at
Chop MTB!
*All photos are property of Chop MTB and I do not own or claim to own any of them
As always play in the mud and Stay Dirty!
__________________________________________________________________________
What is Shimano doing...Well something right that is for sure!
***The Latest Article by VitalMTB written by ICEMAN. I do not own any or claim to own articles posted. These are posted for informational purposes. All property belongs to the original authors.
Shimano Supports Big Wheel Mountain Bikes with New Components and Wheel Sets; Unveils New Deore Mountain Bike Group
IRVINE, Calif. – Shimano has reacted promptly to riding trends and interest in larger wheel mountain bikes and has come to market with products for 27.5" and 29" mountain bikes. The company will now offer multiple 27.5" mountain bike wheels at various price points and new big wheel friendly additions include new Dyna-sys Deore XT and SLX components.
Big wheel specific Dyna-sys cranks
For 2014, Shimano introduces new Dyna-Sys compact triple cranks tailored for mountain bikers riding 29" and 27.5" bikes. The 40-30-22T combination is available in Deore XT, SLX and new Deore 610 series groups and offers the ultimate in trail gearing for 29 and 27.5" wheeled bicycles. To compliment the new gearing, two new front derailleurs will be offered in the Deore XT and SLX lines, the FD-M781-A-B and the FD-M671-A-B, down swing models with a low profile design for excellent clearance. The perfect compliment to the 38-26 racing double, the more versatile 40-30-22T triple cranksets available for Deore, Deore XT and SLX lines provide the range to challenge any trail while the close step gearing will keep riders in better rhythm. The compact triple will feature a composite 30T middle ring. This high performance, high durability middle ring is the heart of the drivetrain and the perfect gear for those technical single track climbs.
Shimano supports 27.5" bikes with multiple models, expands 29" offerings
Shimano has greatly expanded its MTB wheel offerings with two new 27.5" wheel sets available at the Deore XT level and in the new WH-MT35. Also new for 2014 is the WH-MT15 that is available in 26" and 29" sizes.
Entirely new Deore performance mountain bike group
Deore 610 is Shimano's new performance mountain bike group, that offers Rider Tuned customization and is redesigned with trickle-down Shimano technologies like Dyna-Sys gearing, Shadow Plus clutch rear derailleurs, ICE Technologies hydraulic disc brake systems, 2x3 chainring mode converters. Features like an available 15mm front thru-axle, ICE Technologies rotors and black and silver color options make Deore more attractive than ever. Available in double and triple chain ring offerings, Deore 610 is a true performance mountain bike component group available at fantastic price points.
New, more durable chains for XT and SLX
Both the XT and SLX chains have become more efficient, more silent and most importantly, more durable thanks to a new advanced surface treatment technology. The new surface treatment technology lowers friction and increases grease keeping capability for smoother shifts and longer service life.